You've more than likely heard the saying, "A bird in the hand is worth two in the bush." In the third installment of the Inside JABA Series, Dr. Iser DeLeon, along with Inside JABA regulars Drs. Tiger and St. Peter we do a deep-dive into the topic of accumulated versus distributed reinforcement arrangements to see if this adage is true in the context of skill acquisition and problem behavior.
I'm excited to have Dr. DeLeon, better knowns as Willie to friends and colleagues, on the show. Willie's contributions to the field are too lengthy to list here but to summarize, he is a Professor of Psychology at The University of Florida, and he has done great work in the area of translating concepts derived from the Experimental Analysis of Behavior for use in the applied realm.
I'll read you a bit from his bio:
"[Willie's] work is notable for its use of concepts derived from behavioral economics, behavioral momentum, and other conceptual models as they apply to behavior analytic interventions. In addition to his impressive research and scholarly contributions, Dr. DeLeon has served on the editorial boards of a number of behavior analysis journals, including as associate editor of the Journal of Applied Behavior Analysis and editor of translational research for the Journal of the Experimental Analysis of Behavior."
So as you can see, Willie, along with my other Inside JABA co-hosts, are eminently qualified to talk about this subject.
In this episode we reference three different papers on distributed versus accumulated reinforcement. For the purposes of short-hand, I referred to them in the conversation as "Willie's paper," "Claire's paper," and so on. Allow me a minute to give full and proper recognition to all of the authors. The papers we discussed include the following:
During our chat, a number of other papers came up, and my colleagues on the podcast were nice enough to go back and track down those references as well.
We also promised to excerpt Figure 1 from DeLeon, et al., (2014):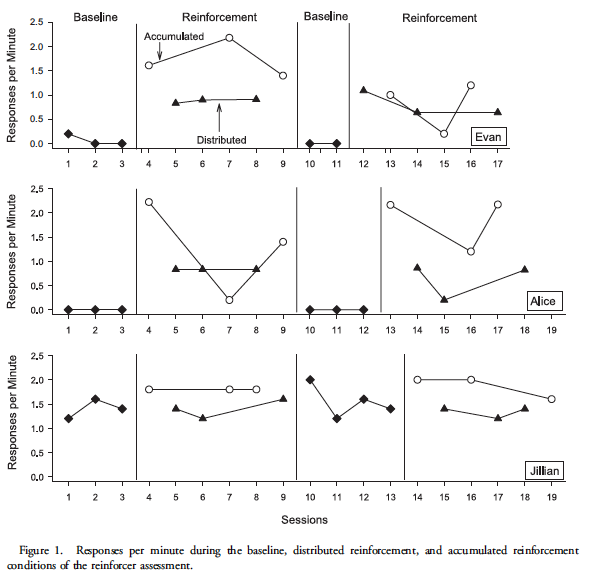 As with previous Inside JABA Series podcasts, there are no ads during these shows, but the content is eligible for continuing education credit. Half of the proceeds from these sales go towards supporting the Society for the Experimental Analysis of Behavior. So to support what we're doing here, please go to behavioralobservations.com/get-ceus. Once there, you'll also be able to see other podcasts that are eligible for continuing ed, and discounts are available for bulk purchases.
If you're interested in getting CEU's for this event and want to learn more, here is the abstract, followed by the specific learning objectives:
The delivery of reinforcement in intervention programs is often delivered in small increments (e.g., 30 s) on a dense schedule (e.g., FR 1). An alternative to this distributed delivery of reinforcement is to arrange conditions in which reinforcement can accumulate following multiple target responses before then being consumed. This episode's discussion highlights three studies that compared task engagement among individuals with intellectual and developmental disabilities (DeLeon et al., 2014) including those identified with escape-maintained problem behavior (Fulton et al., 2020) and adolescents with attention deficit/hyperactivity disorder (Robinson & St. Peter, 2019) under accumulating and distributed reinforcement arrangements. Across each study, engagement was increased and problem behavior reduced during accumulated reinforcement conditions. Further, these studies each included preference assessments in which participants were provided with the opportunity to choose between accumulated and distributed reinforcement arrangements. There was some variability across participants, but many individuals preferred to engage in extended work periods for the opportunity to accumulate reinforcement prior to consumption.
Learning Objectives:
Describe the difference between distributed and accumulated reinforcement arrangements.
Describe why reinforcement efficacy may be increased through accumulation of reinforcers?
Describe why a preference for accumulated reinforcement may be counterintuitive.
OK, if that doesn't get you excited to learn, I'm not sure what will, so go head, and click here to pick up that CE!